If you're in the market for a pool cue and you've done even a little bit of research on the subject, you've probably read a thing or two about Players cues. Or you may have simply heard the name thrown around at your local pool hall – a few of the sharks in there were probably even playing with a Players cue. The point is, the name "Players" is very well known in the world of pool, and for good reason.
Players is one of the most popular, beloved, and best-selling cue brands in the business. They make a wide range of cues, many of which make it onto "Best of the Year" and "Top 10" lists year after year – including our own.
But for those who want to go beyond their street cred and get an in-depth look at the Players brand, you've come to the right place. With this article, I'll answer each of the most common questions about Players cues and even recommend what I've narrowed down as their overall best cue.
About Players Pool Cues
It's surprisingly hard to find much information about the history of Players as a company. Like a few other pool cue makers, they keep a pretty low profile and generally let their cues speak for themselves.
What we do know, however, is that they have been making pool cues for nearly 30 years and have only grown in popularity during that time. The fact that they're so popular is hardly surprising – Players is widely known for making affordable cues that hold up well to heavy use and play like much more expensive cues.
Where Are Players Pool Cues Made?
Players pool cues are designed in America and manufactured in China using American materials. Outsourcing the manufacturing process to China allows for a more affordable cue but does not mean compromising on quality – each cue undergoes rigorous quality control and is fully guaranteed by Players.
The finer details of the Players cue production chain are kept under wraps, but according to the available information, Players cues are conceptualized and designed by a woman-led design team in Florida. The specifications are then sent to the Chinese factory, where assembly begins. After manufacturing is complete, the cues are then shipped back to the U.S.
The fact that Players cues are imported tends to make some people nervous about investing in one for fear that it will be cheaply made and fall apart quickly. The relatively low price point (more on that later) also makes many people wonder if the deal is too good to be true. These are both understandable concerns, so it's worth looking into the matter a little further.
Are Players Pool Cues Any Good?
Players pool cues may not be as good as the more expensive high-end cues on the market, but they are still excellent cues, especially compared with others in their price range. The solid materials, enhanced features, great playability, and overall quality of construction give these cues tremendous value for the money.
Playability
Obviously, the true test of a pool cue is how well it plays. And Players cues do not disappoint in this regard. In my research, I found numerous tales of veteran players who actually prefer the feel of their inexpensive Players cues over the high-end cues they spent several hundred dollars on.
But aside from just their excellent reputation, Players cues have several design features that make for a great game.
All Players shafts feature a pro taper and are treated with a special French cue wax for a smooth, even stroke. There are a variety of available wrap materials to suit any player's grip preferences – from Irish linen or suede to Isoprene or leather.
Players uses durable high-impact ferrules and high-quality Le Pro or Kamui tips to absorb impact, minimize deflection, and maximize ball control.
Many Players cues are even made standard with low-deflection shafts to make shots with English an absolute breeze.
Each cue is perfectly balanced, no matter its size or weight, and is tested repeatedly for perfect straightness in the factory and again before being shipped. All cues are also treated to be completely warp-resistant, so you can be sure it will shoot straight as an arrow for years.
Style
Players cues don't just play well, but they also look great to boot. Every cue is made from hard rock maple and given a high-gloss finish for a gorgeous, slick shine. But Players isn't afraid to make things a little more interesting – whether you want a traditional aesthetic or something a little more modern and flashy, they've got you covered.
Many of their cues feature butts made with more exotic hardwoods such as cocobolo or walnut. Some lines feature beautiful hand-crafted inlays, while others come with high-quality decals and graphics in a variety of motifs.
They also offer a variety of wrap materials and styles. Whether it's the classic Irish linen, modern Isoprene rubber, genuine leather, or leatherette for a budget-friendly alternative, there's an option for any taste.
Durability & Overall Quality
Players cues are widely considered some of the most well-made pool cues on the market – particularly among the ranks of other relatively inexpensive imported cues. Part of what sets Players cues apart (and what makes them so popular) is that they are built to last, even through years of heavy use.
We'll look at their construction a little later to learn what makes them so resilient, but first, it's worth looking into another thing that sets Players apart – their guarantee. As a testament to the quality and durability of their cues, Players backs up every one of their products with a lifetime warranty.
Players Pool Cue Warranty Information
All Players cues are covered by a limited lifetime warranty. This guarantees that every cue will be free from manufacturing or material defects for the entire life of the cue. The warranty even covers warpage. Players will replace a defective cue (under warranty) with the same model or one of equal value for free.
The high-impact ferrules on all Players cues are also covered by a lifetime guarantee against chipping or cracking. In addition, every Players cue is guaranteed to be 100% straight – every cue is checked multiple times for perfect straightness during the manufacturing process, then checked once more just before it leaves the warehouse.
This warranty takes much of the risk out of buying a cue and gives these cues a huge advantage over other imported cues in the same price range.
Of course, there are stipulations. For the warranty to be valid, the cue must have been purchased through an authorized retailer of Players equipment, you must be the original owner of the cue, and you must have the original sales receipt.
The warranty does not cover damage from third parties or normal wear and tear on replaceable parts like the tip, wrap, or finish. Players can also void the warranty at their discretion if they find evidence of mishandling or abuse.
Now that we know about the Players guarantee, let's see what makes them so confident in their cues.
Players Pool Cue Construction
Players pool cues may be inexpensive, but the company certainly doesn't skimp on materials or construction. Their innovative designs are all reinforced and enhanced with industry-standard materials and quality craftsmanship. The materials for some components vary somewhat among their different product lines (which we'll explore shortly) but there are a few constants that make Players cues outlast and outperform many of their contemporaries.
Cue Protection & Finish
Each cue blank is turned seven times during the curing process to prevent warping. The wood is also treated with a patented stabilizer called Nelsonite to protect it from atmospheric factors like temperature and humidity. The cue is then coated with a proprietary epoxy that helps seal the pores in the wood for an extra layer of protection against moisture and warping. This painstaking effort is a big reason why Players can offer such a stellar warranty.Every Players cue is also coated with a high-gloss "super UV finish" that protects it against fading, cracking, and chipping – and also lends it a beautiful, glassy shine.
Shaft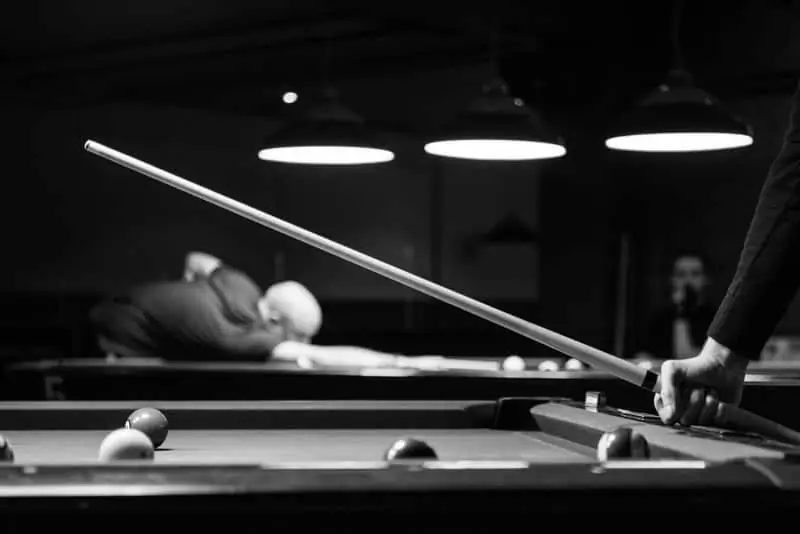 All Players shafts are made from 100% North American Grade A Hard Rock Maple. Every shaft has a 10-15" pro taper and is treated with a special French cue wax for perfect smoothness and consistency. Shaft diameter varies between individual cues, but most have a diameter of 11.75mm, 12.75mm, or 13mm.
Players offers a variety of shaft designs, including regular and jump-break designs, but most of their newer shafts (and certainly their most popular ones) are low deflection shafts. These are part of their HXT series and use their own PureX low-deflection shaft technology. These feature a proprietary deflection-absorbing core that helps make squirt a thing of the past.
Ferrule & Tip
All Players cues (except the HXT series) come with a durable high-impact ferrule that is guaranteed under warranty not to chip or crack from normal use. HXT-series low-deflection cues typically feature a ½-inch or 1-inch ferrule with a lightweight polymer core to further reduce squirt.
HXT cues also differ in their tips. Instead of the French leather Le Pro tips that come standard on all other Players cues, the HXT series features Kamui Black soft tips for improved ball grip and spin.
KAMUI BLACK: For precise cue ball control. KAMUI Black leather has high elasticity. The high elasticity of KAMUI Black works when you need more spin with less force to control the cue ball
Specially treated leather maintains the elasticity and the durability of Kamui tips in all seasons and even in highly humid environments
Best quality control in the billiard tip industry
High durability against mushrooming. Consistent playability: Kamui tip performance allows playability and reliability on the table under any circumstances
Made in Japan - Price is for 1 tip. Choose your diameter and hardness
Joint
Most Players cues have a stainless steel or Implex joint with a 5/16 x 18 pin. Some models, however, feature quick-release, Turbolock, and wood-to-wood joints.
Butt & Forearm
The cue butts and forearms on Players cues are typically made from stained Birdseye or Straight-Grain maple, but some lines are made with exotic woods such as Purple Heart, Walnut, Cocobola, or Rengas. The butt caps are most often made from Implex.
Many Players cues are also weight-adjustable, which is achieved by changing out weighted bolts inside the butt of the cue – typically in half-ounce increments between 18 and 21 ounces.
Wraps
Players cues feature wraps made of double-pressed Irish linen, genuine leather, leatherette (faux leather), high-tech Isoprene, and soft suede. They also make wrapless or "simulated" wrap butts for those who prefer the feel of straight wood.
Lines of Pool Cues Offered By Players
Now that we've covered the general construction aspects of Players' cues, let's look at the different product lines they offer.
Classic (C) Series
These are the standard cues for those who prefer a traditional look and don't need a lot of enhanced features. C-series cues don't have low-deflection shafts, which makes them perfect for beginners. But make no mistake, these are solid and reliable cues.
HXT Series (aka PureX cues)
Often referred to as the "Technology Series," these cues feature Players' own PureX low-deflection shaft technology and lightweight polymer-core ferrules for maximum ball control and precision. Most low-deflection cues cost twice as much (or more) than the HXT cues, which is one of Players' key advantages in the marketplace. These are ideal for intermediate and experienced players looking to hone their skills and compete in leagues.
Artistic (D) Series
D-series cues feature a regular shaft but the butts and forearms are adorned with bold, stylish designs inspired by contemporary artists. Great for those who want a solid cue with a little more flash.
Graphics (G) Series
G-series cues also feature regular shafts but offer a little more eye candy than the Classic models. These catch the eye with beautiful inlays and elegant graphics patterns. These cues have the look of an expensive high-end cue – without the price tag.
Flirt (F) Series
F-series cues are designed primarily for women, by women. These typically do not have low deflection shafts but do feature a somewhat thinner taper (usually 12.75mm) and a slimmer cue but to accommodate smaller hands. These come in styles ranging from flashy and brazen to classic and elegant.
Exotic (E) Series
E-series cues feature butts and forearms made of more exotic woods. These are typically simple and elegant in terms of style to help showcase the natural look of the materials.
Youth (Y) Series
Y-series cues, as the name suggests, are made for younger children who are learning the game. These are typically 48" or 52" inches long and come in fun, colorful styles tailored to boys or girls.Players also has a very limited line called Energy, which makes short playing cues for adults – or for kids who prefer an understated aesthetic.
Specialty Cues (S-series & JB-series)
Players also offer specially designed cues for specific purposes. These include their take on the Sneaky Petedesign (a quality 2-piece cue designed to look like a cheap 1-piece house cue/) as well as a range of jump-break cues. Their basic jump-break cues feature 14mm Bakelite tips, while their high-end jump-break cues feature PureX shafts with a proprietary Carbon Fiber Impact System and 14mm XLG Quad Face phenolic tips.
Who Are Players Pool Cues For?
One great thing about Players is that they have a cue for virtually everyone. Pool players of any age, gender, skill level, or financial situation can find a solid cue among the Players repertoire that will suit their needs – which does a lot to explain their immense popularity. Even many veteran players swear by Players cues for their advanced features and overall quality.
Players makes a wide range of cues tailored to a broad range of demographics, so it's hard to say that they're for any one group of people. However, since even their more high-end, advanced cues are still much more affordable than similar cues on the market, I will say that the people who probably stand to benefit the most from Players cues are those on a budget.
How Much Do Players Pool Cues Cost?
Players pool cues typically cost anywhere from around $60 to $300 – including shorty cues, youth cues, and high-end specialty cues like jump-break cues. Their regular (adult-sized) playing cues and low-deflection cues are usually around $100 to $200. The final price will ultimately depend on the specific cue and where you buy from.
However, it's important to remember that you should always buy Players cues new, and only from an authorized dealer. Doing otherwise means missing out on their lifetime warranty – which is one of the sweetest benefits of owning a Players cue.
Are Players Pool Cues Worth It?
Considering their low price point, high-quality construction, lifetime warranty, and wide range of styles and features, Players pool cues are worth every penny. Their affordability, durability, and versatility make them a great investment for beginners – but their excellent yet inexpensive PureX low deflection shafts make the more advanced models a steal for seasoned players.
Even if it doesn't end up being your favorite cue, the low cost makes it a very low-risk experiment. And since it's made to be durable and warp-resistant, you can always put it in storage or use it as a backup or house cue for guests with the knowledge that it will last for years.
Hopefully, this article has helped you decide whether a Players cue is right for you. Of course, choosing the right cue is another story, especially from a company with such a vast range of options. To make things a little easier, I'll leave you with what I've found to be the best overall Players cue.
Best Players Pool Cue for the Money
Players Technology Series HXT15
2-Piece Cue
58" Length
Comes In 18oz, 18.5oz, 19oz, 20oz, 20.5, or 21oz
Premium-Grade North American Hard Rock Maple Shaft
Shaft Treated with Nelsonite and Epoxy-Sealed
12.75mm PureX Low Deflection Shaft
Kamui Black Soft Tip
Walnut-Stained Birdseye Maple Forearm & Butt
Stainless Steel Joint with 5/16 x 18 Pin
Solid Black Double-Pressed Irish Linen Wrap
Slimline White Implex Butt Cap
Lifetime Warranty – Includes Warpage
Guaranteed 100% Straight
This cue packs an enormous value at an astonishingly low price. One huge selling point of this cue is its PureX low deflection shaft. This state-of-the-art shaft features PureX's proprietary Deflection-Absorbing Core and a lightweight polymer-core ferrule. The ferrule is topped with a durable Kamui Black soft tip crafted from 10 layers of treated pigskin, which provides maximum ball grip and spin.
All of this low-deflection technology combines to virtually eliminate cue ball squirt for extraordinary accuracy. This is the perfect cue for those entering the world of English who don't want to spend a fortune on a typical low-deflection cue.
The solid black double-pressed Irish linen wrap makes for a solid, slip-proof grip, but it also lends itself to the classic look of the cue. The forearm and butt are made with walnut-stained Birdseye Maple and feature black and white diamond graphics patterns. This, combined with the stainless steel joint and white Implex butt cap, give the cue a stylish but tasteful look.
All in all, the HXT15 a fantastic cue at an unbeatable price. It's loaded with incredible features, it's easy on the eyes, and it's backed by one of the best warranties in the industry.
Other Articles You May Be Interested In: